Posted by Colleen on 17th Nov 2021
Monogrammed handkerchiefs make the perfect holiday gift for these 5 hard-to-shop-for people who make gift-giving challenging every year.
The holiday season is here! Decorations are popping up on homes and businesses, Christmas music is playing on regular radio, and the store displays are growing an aisle at a time.
While it may seem as though you've still got plenty of time to shop for gifts, the calendar will soon turn to December, and "crunch time" for gift shopping will start to creep in.
I know several people who've already finished holiday shopping, and I both admire and dislike their efficiency! LOL!
For many people, holiday shopping is difficult for some who attempt to find "the perfect gift" for a spouse, loved one, coworker, or close friend. This task becomes increasingly more difficult for the people in your life who seem incredibly hard to shop for each year.
What Does 'Hard To Shop For' Really Mean?
Several factors make these individuals hard to shop for during the holidays. Here are some of the common reasons why:
The Constant Shopper: This hard-to-shop-for individual spends the year purchasing anything they want or need, so when it comes time to buy a gift, there's nothing really new or original that they don't already own.
The 'No Hobbies' Person: A person with no apparent interests or hobbies is challenging to buy Christmas gifts for because this creates almost too many options. What do you buy for a person who doesn't like anything? Well, pretty much anything!
The 'Too Much Stuff' Person: the opposite of the person without hobbies is the individual with a few very obvious hobbies for which people always give them gifts. Think of the dad who loves to fish or golf or the mom who's really into needlepoint or craft making.
5 Impossible People To Holiday Shop For Every Year
Now that we have a better idea of why these people are incredibly hard to shop for during the holidays, here's a quick list of the five people who typically fall into one of those categories.
1. Siblings - Growing up, you knew everything about your siblings and probably shared similar interests. Now that you're older, you're not quite sure what your brother and sister do in their free time.
2. Cousins - Cousins are remarkably similar to siblings when buying gifts but with a higher degree of difficulty if you don't see or talk to them frequently during the year. The fewer times a year you come in contact with a cousin, the less you really know about them, but you do know one thing for a fact - they're going to have a gift for you during the holidays.
3. Mother-in-Law - Honestly, people make buying gifts for their mother-in-law much more complicated than the task needs to be, but we all feel the pressure to get a spouse's mother something they'll genuinely appreciate and use. Every gift for a mother-in-law feels as though it'll be judged, even if that's not the case at all.
4. Boss - Much like the mother-in-law, a boss is another person who seems hard to shop for because of the internal pressure people put on the gift. Even if the boss explicitly tells employees "gifts are not necessary," and the office does a Secret Santa or Yankee Swap at the annual holiday party, people feel a particular obligation to buy a holiday gift for the man or woman who "signs their paychecks."
5. Partner/Spouse - Now, I know what you're thinking, "how can the person you spend a majority of your time with be hard to shop for?!?" Well, here's why some spouses or partners are hard to shop for every Christmas. You've bought this person so many gifts over the years that, frankly, you're running out of ideas. Trying to be both original and top the gift from the year before makes spouses and partners especially hard to shop for during the holidays.
Why Monogrammed Handkerchiefs Make Good Gifts
There is one gift that will work for every single person and situation. A monogrammed handkerchief is the perfect gift for a sibling or relative, a boss, a picky mother-in-law, and even a spouse.
Monogrammed handkerchiefs make for a thoughtful and personal holiday gift because stitching someone's initials onto a handkerchief shows that you've gone above and beyond this holiday season. A monogrammed handkerchief is a little bit of luxury that a person probably won't purchase on their own. If you want to make it extra special, think about embroidering your handwriting on one of our handkerchiefs.
If you're looking for a thoughtful and useful gift for those impossible to shop for people on your holiday list, a monogrammed handkerchief is the way to go. Monogrammed handkerchiefs aren't just an excellent gift for the holidays. They're also a great groomsmen gift and a thoughtful wedding gift.
The Handkerchief Shop offers a variety of styles and font options, and the uniqueness of the gift means the person will never forget who bought them such a personalized and thoughtful gift for the holidays.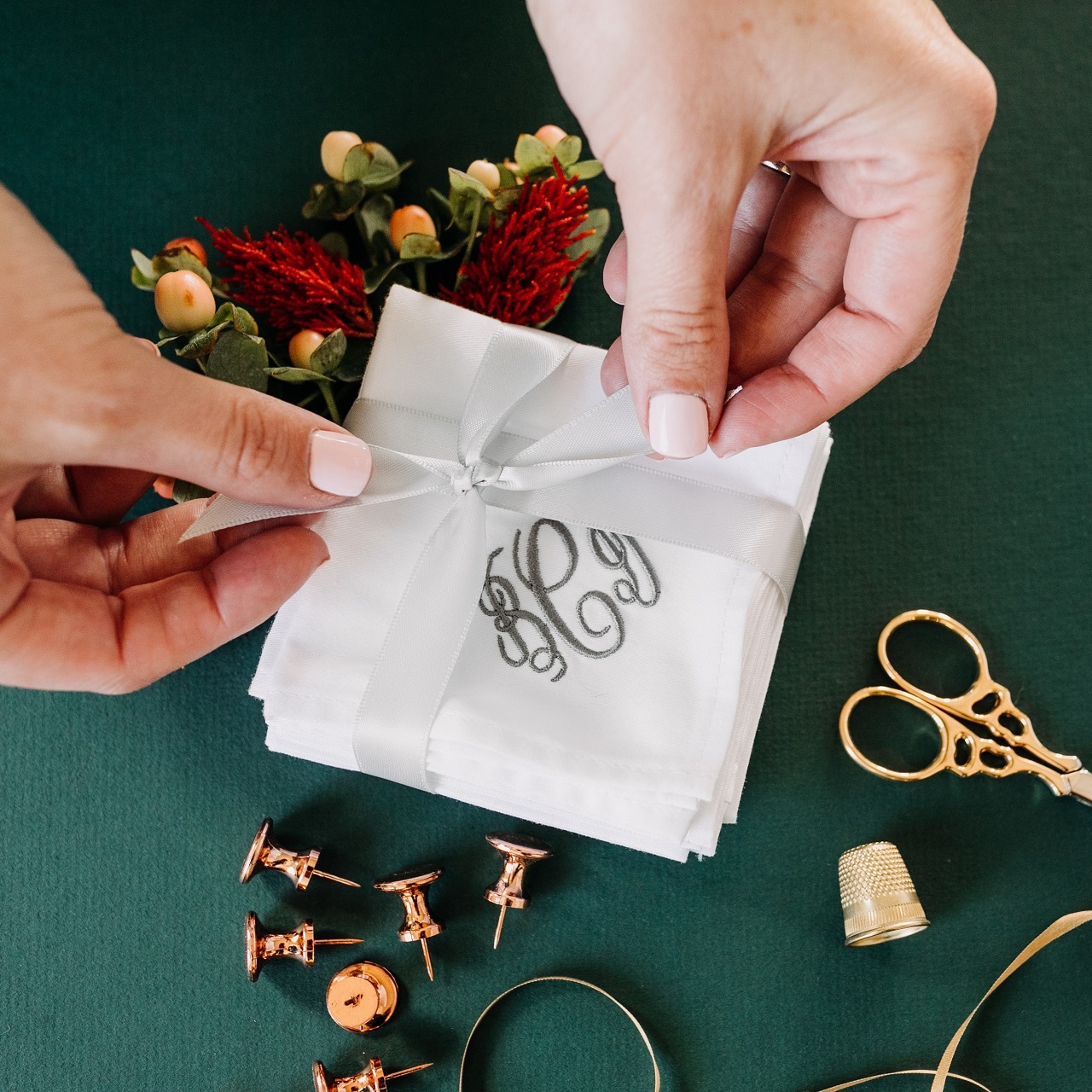 Related Links: