Posted by Colleen on 27th May 2022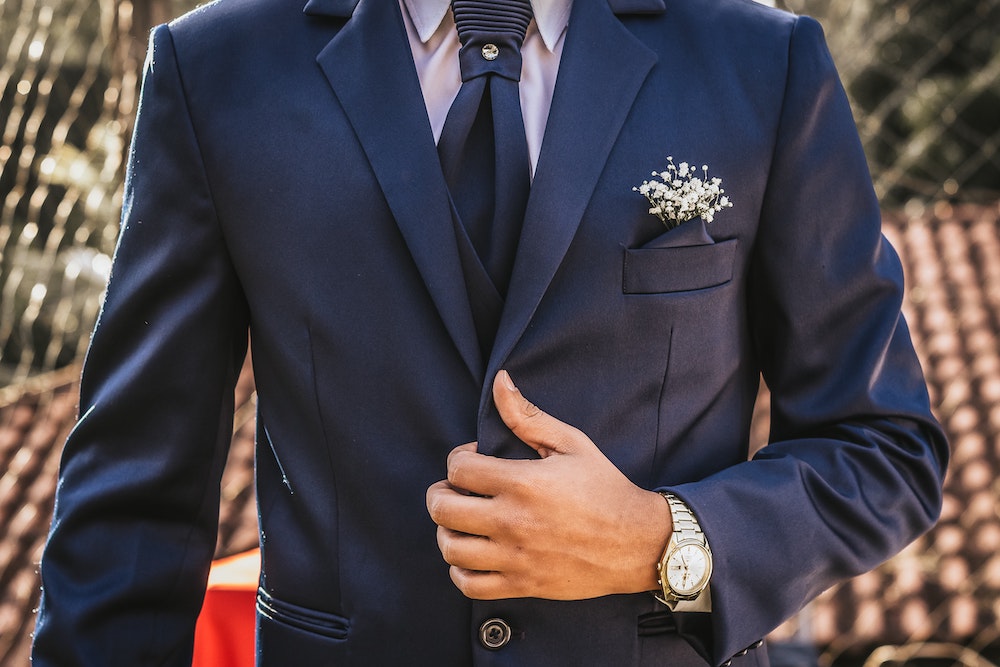 Getting ready for the wedding can sometimes be stressful for the groom, especially if things are left to the last minute. Most of the heavy-lifting is done in advance. The tuxedo or suit, shoes, and belt are all chosen months ahead of time. But what about the groom accessories that men often forget all about until it's too late?
We've been to more than a few weddings where the groom forgot about a few accessories that would have made the day much easier to manage, from small items like a handkerchief or cufflinks to must-have accessories like sunglasses or a nice watch.
Everyone here at The Handkerchief Shop wants both the bride and groom to be prepared for the big day!
Here are five must-have groom accessories that most guys forget all about until the wedding day.
MUST-HAVE GROOM ACCESSORIES
Handkerchief
Yes, naturally, we'd start with a wedding handkerchief. It's what we do here! Allow us to explain why a groom will want a handkerchief on his wedding day.
First off, tuxedos typically aren't made of the most breathable fabric. Factor in a crowded and warm church or reception hall or an unseasonably warm Spring or summer day for an outdoor wedding, and the groom could be drenched by the first dance.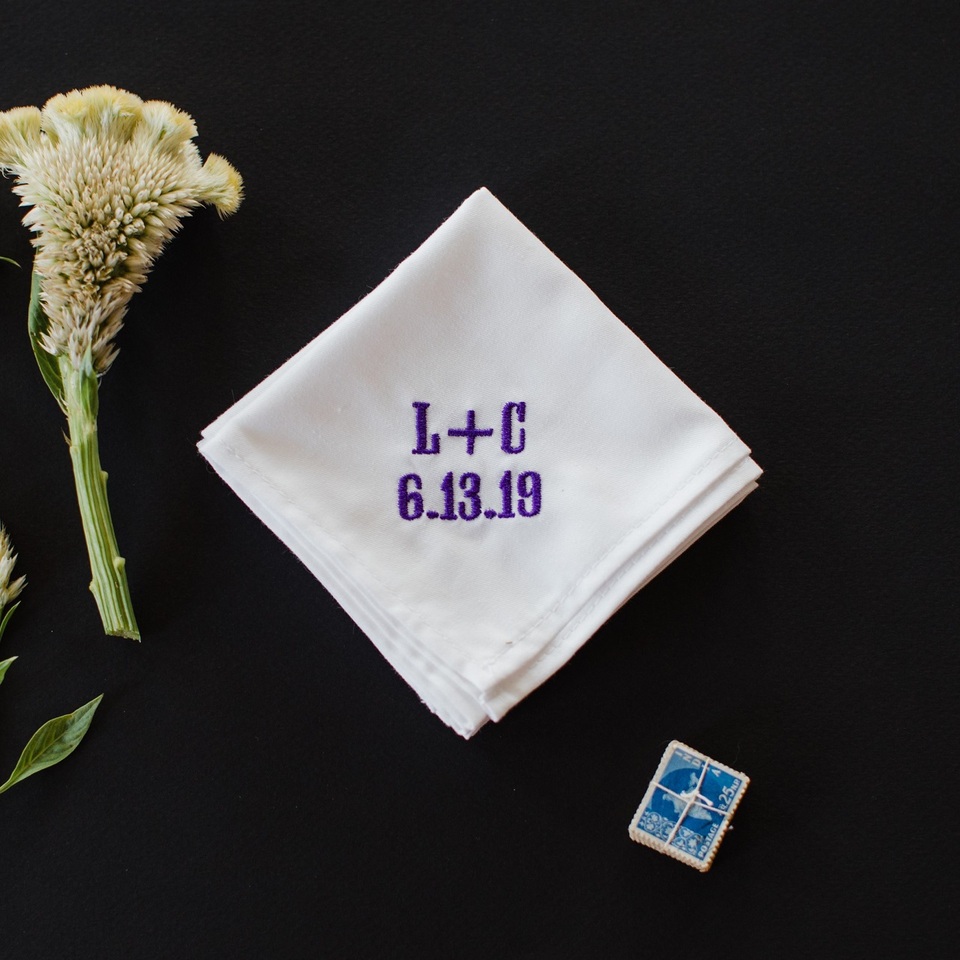 Secondly, a handkerchief will come in handy if the groom needs to blow his nose, stop a sneeze during group photos, or dry his nervous hands before the bride comes down the aisle.
Best of all, the handkerchief can work as a pocket square. You can even buy personalized and monogrammed handkerchiefs for all of the groomsmen to wear and use.
The Handkerchief Shop offers a variety of styles and font options for monogrammed handkerchiefs, and while you're buying your future husband a wedding day gift, why not also get a thank you present for the father of the bride and the groom's father?
If you're interested in embroidering handwriting on a handkerchief for anyone in your wedding party, contact us at info@thehandkerchiefshop.com. Please allow up to 3 business days for The Handkerchief Shop team to respond to your quote request.
Cufflinks
We've heard countless stories about grooms not having cufflinks on the big day. We've listened to so many that we're considering going into the cufflink delivery business! It's easy for a groom to forget cufflinks for his tuxedo, especially if a guy doesn't wear cufflinks regularly or at all. Most tuxedo shops provide cufflinks, but those handy little cuff holders get lost, break, or can be bland and boring.
Every groom should consider buying cufflinks specifically for his wedding day. He can wear them again on special occasions and, just like handkerchiefs, make a great groomsmen gift that all the men can wear on the big day.
Face Grooming Kit
Some men don't pay much attention to their faces. Everyone in attendance will be looking at the groom's face on the wedding day, and his mug will live on in wedding photos for decades. Cleaning, moisturizing and rejuvenating the face are vitally important on the wedding day, especially if nerves kept the groom up the night before the wedding.
There are complete facial kits available for men that have all the products a guy will need on the morning of his wedding. If the groom has a beard, getting a trim the week before is advised, and finding a few products to tame the facial mane will make a man look and feel better.
Watch
Some might argue that wristwatches are slowly becoming obsolete, especially since everyone carries phones in their pockets. On big occasions - such as weddings - a watch is essential.
First, a classic men's watch is the perfect accent piece to a tuxedo. Second, the groom shouldn't check the time by constantly pulling his smartphone out of his pocket all day, especially during the ceremony or while talking to guests. We highly suggest grooms hand their phones over to the best man during the ceremony and pictures or forever stare at wedding photos with a giant lump in the groom's pants pocket.
An inexpensive but fancy men's watch makes for a fun pre-wedding gift from the bride to the groom. If the guy doesn't have a nice watch, he can borrow one from his father or his new father-in-law. The groom can even join a watch subscription club.
Sunglasses
Nothing ruins the classic look of a tuxedo more than the wrong pair of sunglasses. We cringe every time a man dresses up for his wedding in a handsome tuxedo and wears a pair of wraparound Oakley sunglasses from Sunday softball or his favorite pair of $5 shades that go on every fishing trip.
A nice pair of sunglasses are must-have groom accessories, and he doesn't have to break the bank to buy a nice new pair. The shades will come in handy for outdoor weddings or if he gets too overwhelmed on the wedding day and doesn't want everyone to see the emotion on his face. We see you crying there big fella, and we think it's cute.