Posted by Colleen on 5th May 2022
Take a moment to reflect on your childhood and recall some of your fondest and earliest memories. There's a good chance a faithful friend was by your side for all of your adventures.
Stuffed animals go by many names, including plushies, plush toys, soft toys, softies, and cuddle toys. Whatever you call them, stuffed animals are usually a much loved essential item for many children. I know they have been for my own children!
With the help of my daughter, I am so excited to offer our newest embroidered item at The Handkerchief Shop, adorable customized stuffed animals with your embroidered handwriting on the belly.
Our new little friends are soft, cuddly, and can be embroidered with your handwriting, just like our custom handkerchiefs.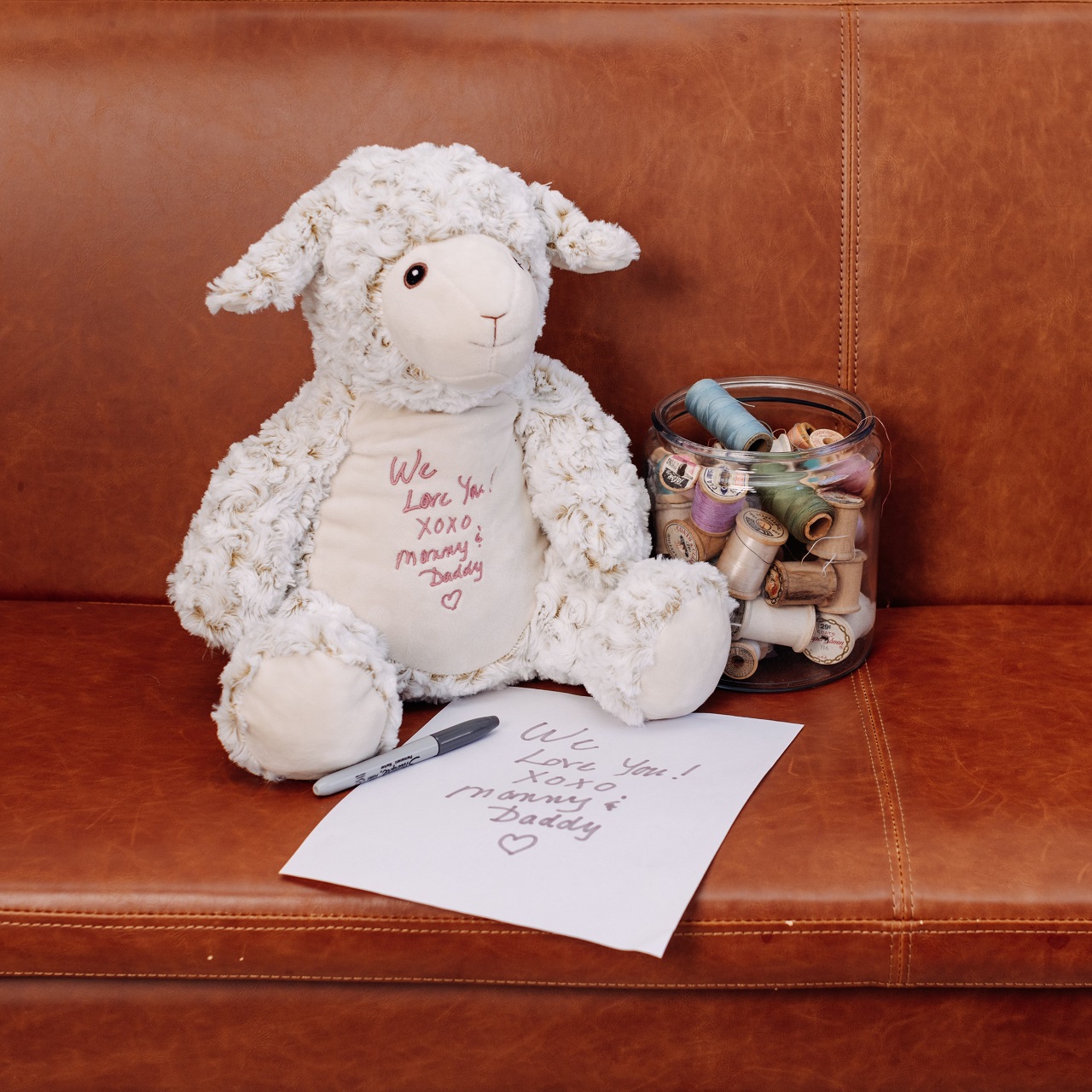 About Our Handwritten Embroidery Stuffed Animals
Before getting into how embroidering your handwriting on stuffed animals works, let's meet our collection of stuffed friends who my daughter helped me name and give them magical little stories to bring them to life.
Bonnie Bunny- Bonnie loves hanging on the monkey bars, sucking down milkshakes, collecting stickers, and playing with her besties.
Lily Lamb - Lily adores painting with watercolors, listening to lullabies, water balloon fights (but only when she wins), and playing with Butterscotch and Bonnie.
Butterscotch Bear - Butterscotch loves jumping in fat rain puddles, eating waffles with whipped cream for every meal, and playing hide and seek with Bonnie & Lily.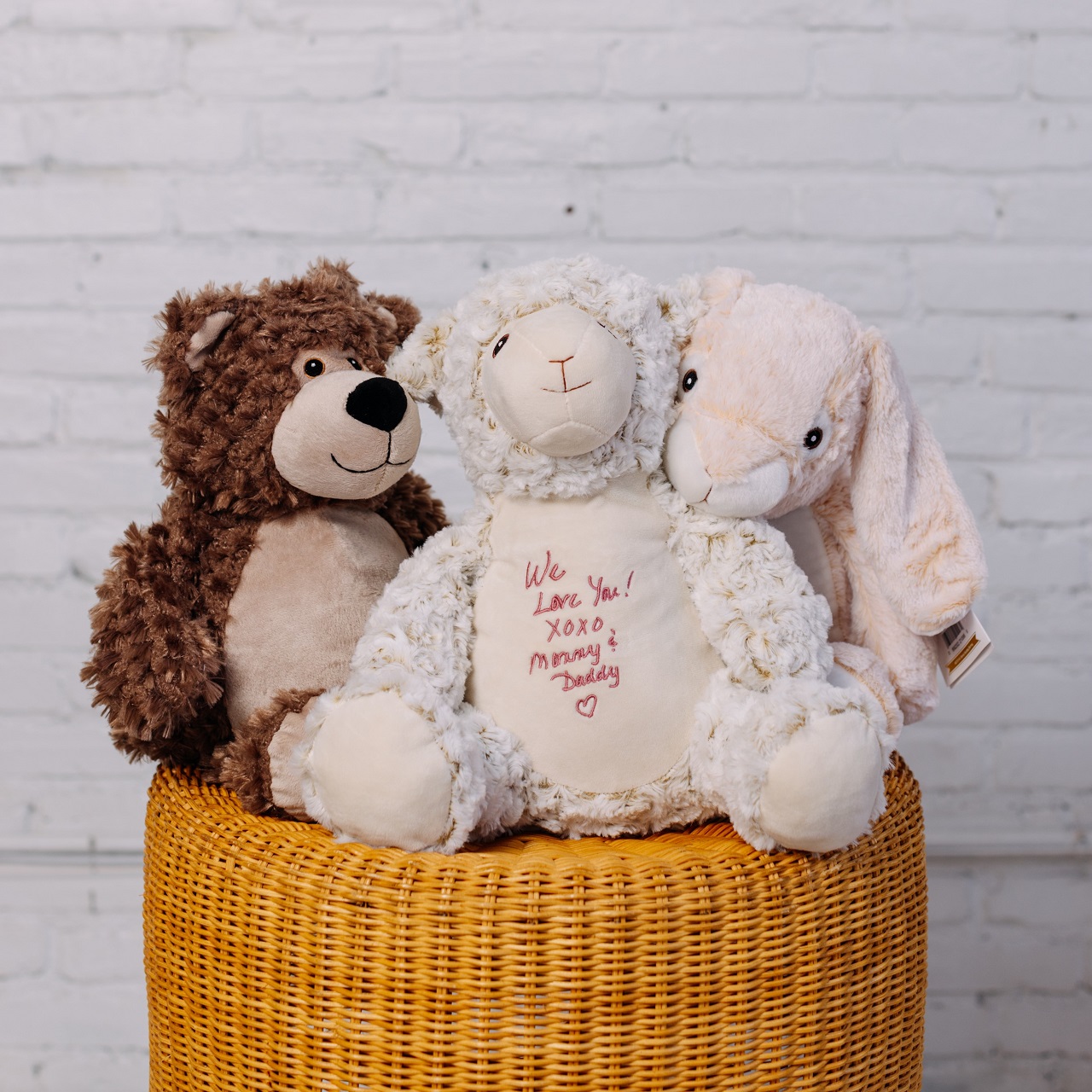 Why Embroidered Stuffed Animals Makes a Perfect Gift
A 2018 study showed that stuffed animals aren't just helpful for kids. The study showed that 43% of adults have a special stuffed friend. Perhaps the most fascinating fact from the survey was that 84% of men - versus 77% of women - admitted owning at least one.
Long story short - Children form a strong connection or bond with their stuffed toys, often sleeping or cuddling with stuffies for comfort. Kids will often think fondly of the adults who gifted them their favorite stuffed animal. Add on the bonus of an embroidered signature from the child's favorite grandmother, aunt, or mom and dad, and the stuffed animal will be a treasured possession for a lifetime.
Check out some of these other fun facts about stuffed animals.
Fun Facts About Stuffed Animals
A German company named Steiff was the first commercial company to produce stuffed toys.
The first patented stuffed toy was a rabbit inspired by the Peter Rabbit book series by Beatrix Potter.
The earliest stuffed animals were created from felt, velvet, or mohair and typically stuffed with straw, horsehair, or sawdust.
After World War II, stuffed animal manufacturers adopted more synthetic materials in toy production. In 1954, the first washable teddy bear was made.
A few stuffed animals created by the Steiff company back in the late 1800s and early 1900 have sold at auction for hundreds of thousands of dollars.
The most expensive stuffed animal in the world is a Steiff Louis Vuitton Teddy Bear. The bear sold at auction back in 2000 for $2.1M.
***
Do you have a handwritten note or maybe a card from a loved one that you would like embroidered on Lily Lamb, Bonnie Bonnie, or Butterscotch Bear?
To order a customized stuffed animal with handwritten embroidery, please email info@thehandkerchiefshop.com with:
1. A picture of the handwritten message that you would like embroidered on the stuffed animal's belly
2. Stuffed animal choice (Bonnie Bunny, Lily Lamb, or Butterscotch Bear)
3. Thread color
4. Due Date
Please keep in mind that for the best embroidery results, keep the customized message short and simple. The longer the message, the smaller the embroidery will need to be on the stuffed animal.
If you have any questions about embroidering handwriting on a stuffed animal, please don't hesitate to reach out at the email above.