Posted by Colleen on 14th Jan 2022
One of the most frequent questions we receive from customers is about embroidering handwriting or signatures. Is it possible to embroider a loved one's handwriting onto a handkerchief?
Not only is embroidering handwriting possible, but it's also one of our favorite orders here at The Handkerchief Shop.
Embroidering Handwriting: Things To Consider
Embroidering a loved one's handwriting is a sentimental way to remember a loved one or keep a special message close to your heart. It is also a memorable way to personalize a piece of clothing or an accessory and turn it into a unique keepsake.
Before diving into all the fantastic reasons to embroider a loved one's signature on a handkerchief, here are some fun facts about handwriting and how the elements of script speak volumes about a person.
For example, are you aware that letter size can tell you a great deal about a person?
According to this article, "Small letters generally indicate shyness or introversion whereas large letters might indicate extroversion or a need for attention." Another fun fact about handwriting is that the amount of room you leave between your words may also reveal something. People who write words close together may need to be surrounded by others at all times, while people who leave more space between words enjoy their freedom and might not want to be crowded.
You can also tell a lot about a person based on the slant, letter shapes, letter looping, and the way the person dots an I or crosses a T.
A person's signature is truly unique, so embroidering their handwriting on a handkerchief will truly be one-of-a-kind. We all have those people in our lives who are challenging to shop for on holidays, birthdays, or any occasion and handwriting embroidered onto a handkerchief makes for a perfectly unique gift.
If embroidering someone's handwriting onto a handkerchief sounds like a good idea, but you're just not sure of exactly what you'd want, here are some ideas from past projects.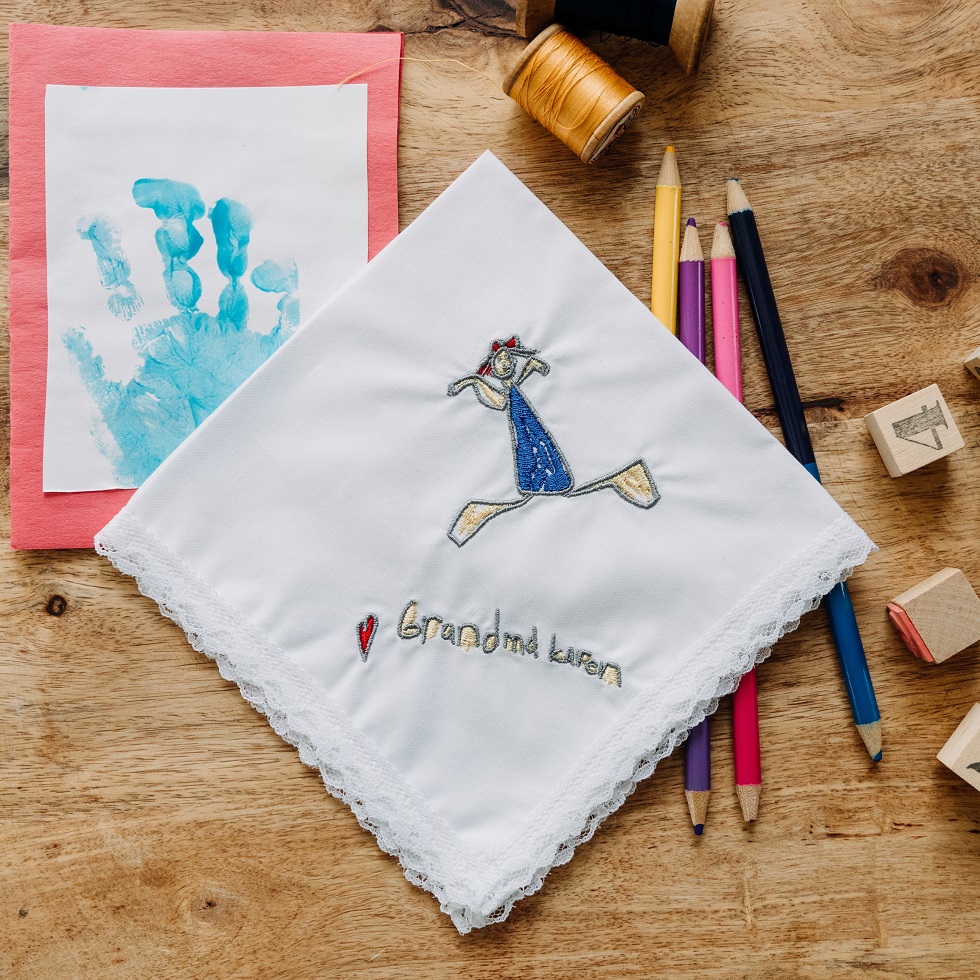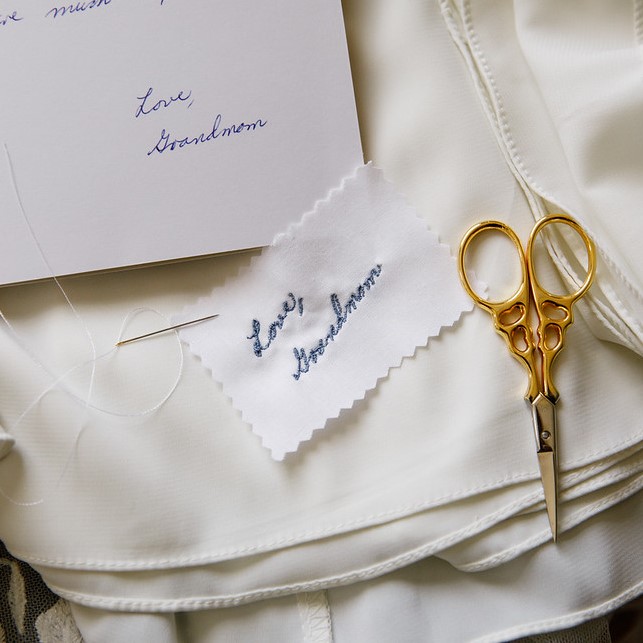 An embroidered handkerchief with personalized handwriting makes a perfect gift for birthdays, holidays, anniversaries, wedding gifts, and as personal reminders of loved ones who are no longer with us.
Here are some things to consider before getting a loved one's handwriting embroidered:
Would you like your message embroidered on a handkerchief or a fabric square (for sewing into a dress or suit)?
Do you have a specific size in mind for the handwriting?
In what color thread would you like to see your message?
Where would you like your message embroidered on the handkerchief?
Which handkerchief style are you considering for your embroidered message?
How many handkerchiefs would you like to order with your embroidered message?
If you're interested in embroidering handwriting on a handkerchief, contact us at info@thehandkerchiefshop.com. Please allow up to 3 business days for The Handkerchief Shop team to respond to your quote request.
Check out this website section to learn more about handwritten embroidery for wedding dresses and men's suits.
Please note a $25 digitizing fee will be charged for the order, and set-up fees are non-refundable. Intricate designs may require an additional set-up fee. Due to the custom nature of the item, handkerchiefs are non-returnable and non-refundable.