Posted by Colleen on 21st Aug 2014
Wedding handkerchiefs are a beautiful and thoughtful keepsake to give the bride, bridal party and mothers and fathers of the bride and groom on the big day. I have heard lovely stories of how wedding hankies have become a part of so many families' traditions. I thought I would share with you information and stories that I found and was told over the years on how the tradition of a wedding handkerchief may have first begun.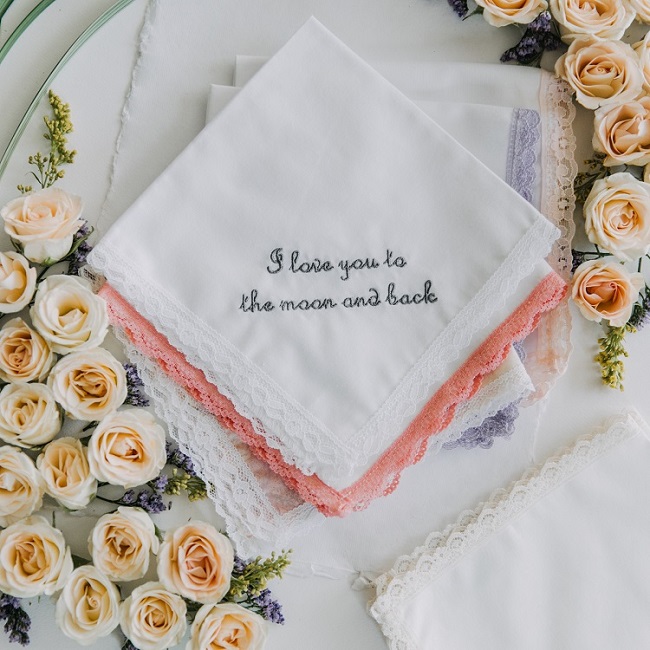 Wedding Handkerchief Tradition and History
The exact timing of when handkerchiefs came into existence seems to be a little unclear. Some historians date the first handkerchiefs back to 1000 B.C. while Christians might argue that the shroud of cloth offered to Christ by Veronica may have been a handkerchief. It is known, however, that handkerchiefs were carried by early Romans and seen as a status symbol for the wealthy. These handkerchiefs were originally made out of fine linen and later were created in less expensive materials so that they could be purchased by the middle class. Handkerchiefs have had various uses through the years as well. From the symbolic "dropping of the handkerchief" to start a race to its use as a head accessory. From its practical use to blow ones nose and to its more modern use of drying a bride's or groom's happy tears. I found it to be interesting though as I was digging around for handkerchief history that the actual wedding hanky tradition is said to have begun in the Southern part of the United States. Often a wedding handkerchief was passed down through many generations and the hanky sometimes even served a dual purpose as the bride's "something old & something blue", as it still does today.
The reasons why a bride wanted to catch her tears of joy with a handkerchief have changed over the years. I found some information that says early farmers thought a bride's wedding day tears brought luck and her tears would bring rain to their crops. Today, a bride's and groom's tears are celebrated as tears of joy and wedding handkerchiefs are used as a practical and sentimental accessory for the bride and groom. Usually given by a close family or friend, the handkerchief is later tucked away as a remembrance of the wedding day.
Another popular use for wedding handkerchiefs is during a second line parade, traditionally part of New Orleans weddings. The parade celebrates the couple's new life together. The first line is made up of the brass band and married couple. The second line is made up of the wedding guests who dance to the music and strut using handkerchiefs as a prop to swing in the air. These handkerchiefs used are often favors given to the guests by the couple and embroidered with something for the guests to remember the wedding day
The Most Photographed Accessory
Think of all those happy tear moments that are captured by photographers during a wedding day: the first look, the first dance, the sentimental toast and so many more. The happy tear handkerchief ends up being the most photographed accessory of modern day weddings because it is used by so many including the bride, groom, mother of the bride, father of the bride, mother of the groom, father of the groom, bridal party and other special family and friends. Some couples also provide a basket of happy tear handkerchiefs for their guests. Often these are less expensive ones that can be rolled and tied with ribbon.
The wedding handkerchief also becomes part of the accessory "flat lay" that photographers take of the brides' and grooms' special wedding day accessories. TIP: If the couple has a theme for their wedding (examples: "Believe In Love" or "It Was Always You"), a handkerchief is a great place to embroider this saying and include in your accessory pictures. A beautiful, embroidered handkerchief is always camera ready!
Creating Your Own Wedding Handkerchief Tradition & Heirloom
A wedding handkerchief can easily become a lovely heirloom to be passed down to the next generation. By adding a little personalized embroidery to the corner of your wedding handkerchief, you are creating a keepsake to be treasured for years to come. Embroidery can include a sweet message or even an inside joke to the bride or groom or can simply be the couples' initials and wedding date. The embroidery thread can be chosen to match the couples' wedding color palette or can be chosen based on the recipient's favorite color. Wedding handkerchiefs can also be customized with a special monogram, crest or hand drawn design. The Handkerchief Shop even offers Handwritten Embroidery (TM) where the giver can write a note and it can be digitized and embroidered on the handkerchief. Wedding handkerchiefs are often given to brides and grooms for their happy tears. Handkerchiefs are also given as keepsake gifts to the bridal party, parents of the bride and groom and special people involved in the ceremony. The Handkerchief Shop creates wedding handkerchiefs from fine,100% cotton and beautiful laces for a lovely treasure to be tucked away as a remembrance of a beautiful, milestone day. You can enjoy creating your custom handkerchief by selecting a wedding handkerchief style and adding a special embroidered message. Can't find the words to express how much the person means to you? No problem, you can personalize one of our many wedding messages with your name and wedding date. My Happy Hanky handkerchiefs also come packaged with the special happy tear poem on the back side of the envelope that my mom wrote for me. I love passing along this special happy tear poem to my customers.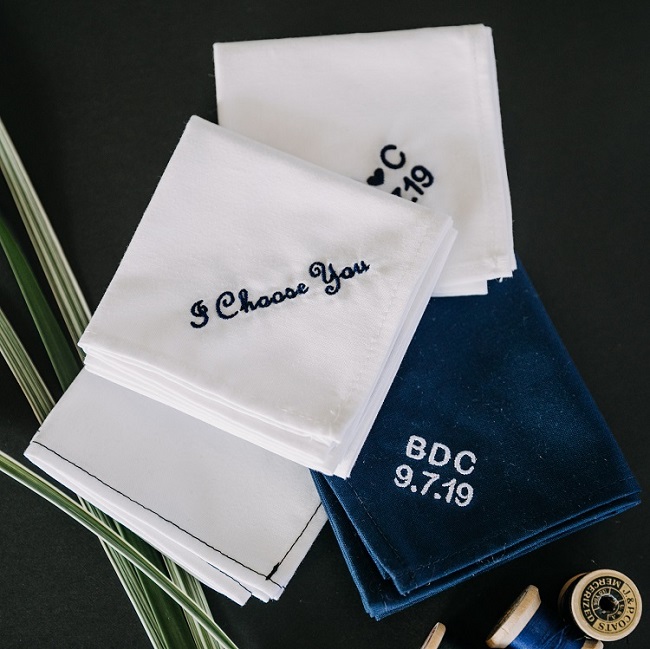 Enjoy creating your own or carrying on your family's wedding handkerchief tradition!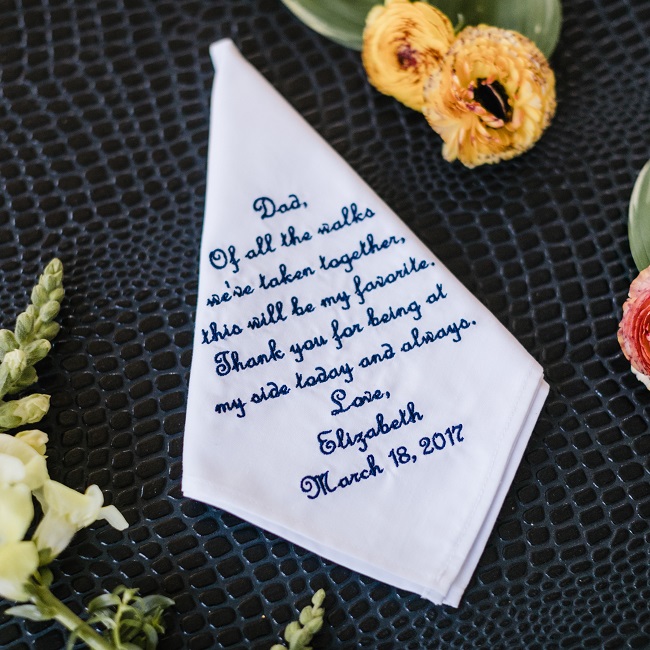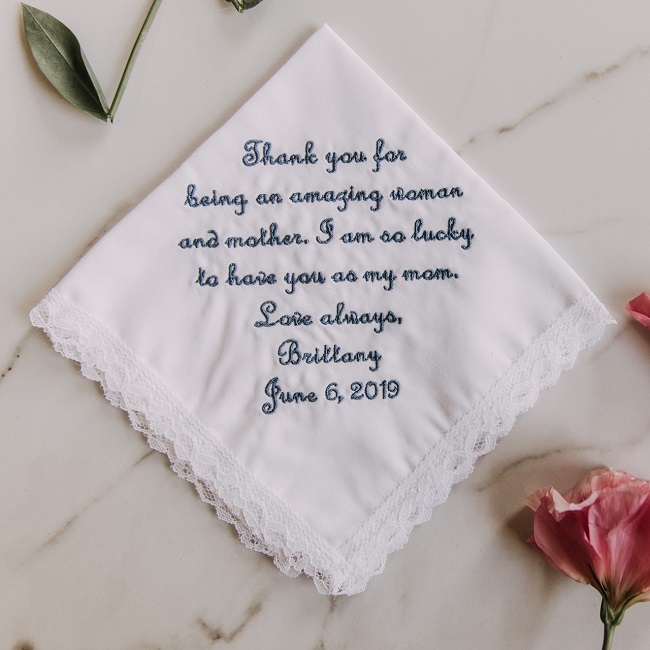 {Photography | Love Me Do Photography}