Posted by Colleen on 10th Jul 2019
It is amazing how adding a personalized message or monogram to a handkerchief makes it an instant keepsake or treasured accessory. Each of The Handkerchief Shop's handkerchiefs are made locally with 100% cotton and beautiful laces, all of which I hand select to create lovely keepsakes. We embroider your personalized messages and monograms using fine embroidery threads in a rainbow of colors to match any of you color details.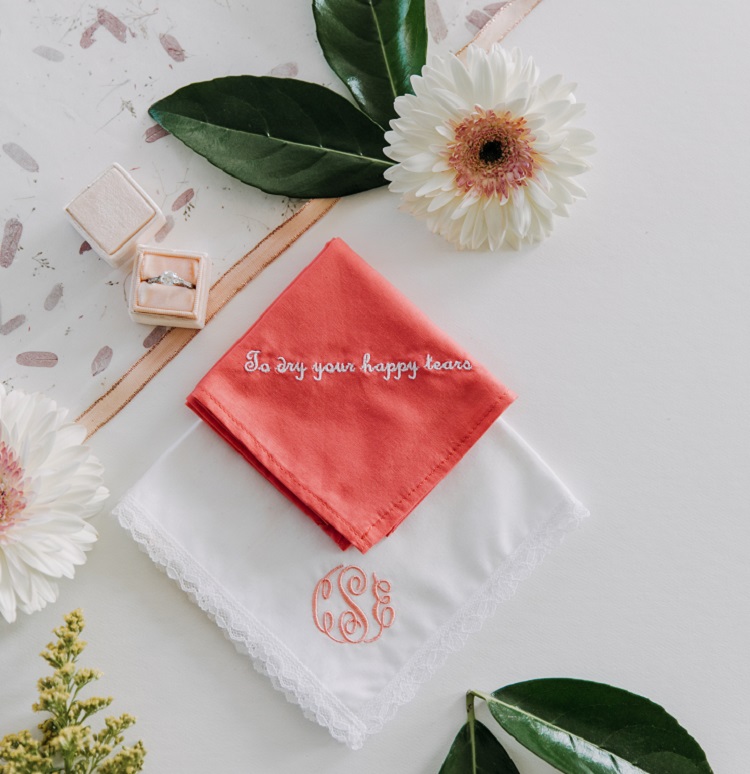 When Is A Personalized Handkerchief An Appropriate Gift To Give?
A personalized handkerchief can be gifted for a variety of special occasions and reasons. They can be given as a special gift for a wedding, anniversary, graduation, holiday, to show appreciation, as a comfort gift or to celebrate someone's personal endeavors. An embroidered handkerchief is something small that can be folded and tucked into a person's pocket, dress or handbag which makes it a portable memento for them to carry with them. When you add personalized embroidery to a handkerchief, it instantly turns a beautiful handkerchief into a wonderful heirloom to be passed down to the next generations.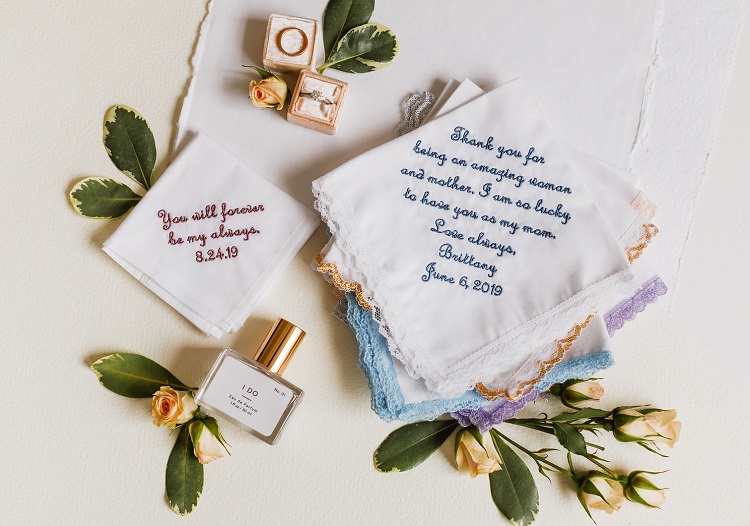 What Is A Personalized Handkerchief?
A personalized handkerchief is a handkerchief that is embroidered with something that is meaningful to the person you are giving it to. The handkerchief can be embroidered with the recipients monogram, a special date, an inside joke or a loving message. The reason for the personalization can be to make the person smile, bring them comfort, show them support, remind them they are loved or just as a special accessory detail, as with a monogram.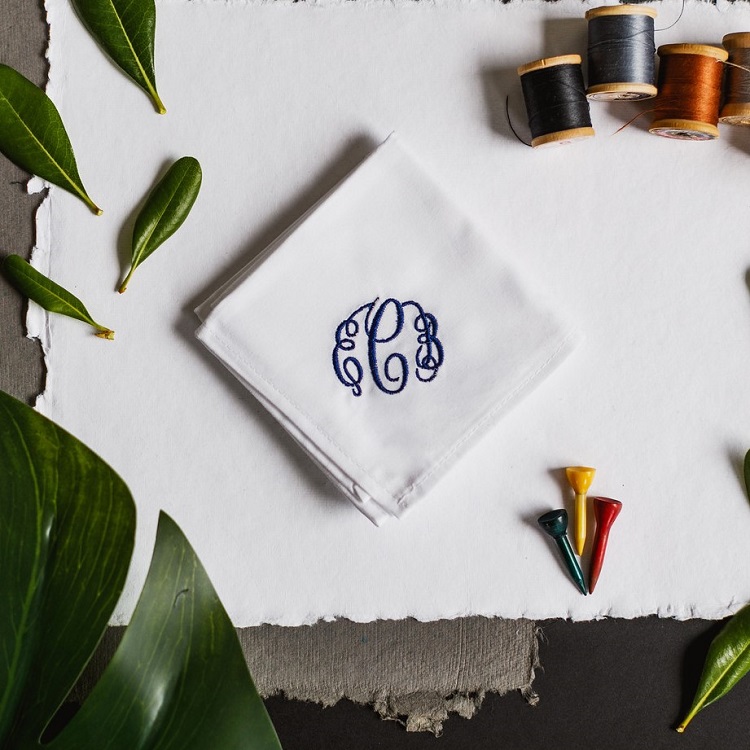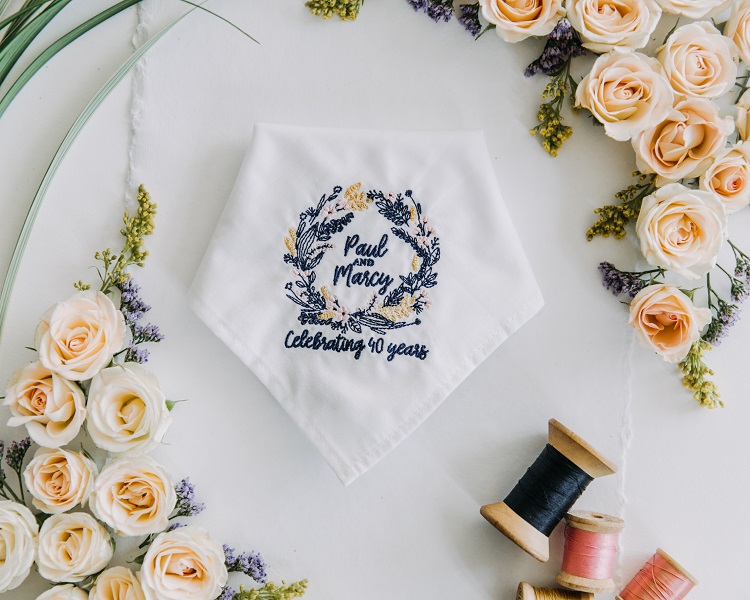 How Do I Create A Personalized Handkerchief?
There are various different options for creating your own personalized handkerchief at The Handkerchief Shop.
Personalize With Your Own Embroidered Message: If you would like create your own personalized message, you would follow these steps:
1. Select any handkerchief in the "Create for Her" or "Create for Him" categories
2. Click on the Personalized Message embroidery option
3. Choose the font style
4. Type in your message
5. Choose your thread color
6. Choose to embroider your message either diagonally or horizontally (straight)
7. Check the "approval" box after you have looked at the fonts, placement and sizing
8. Add the personalized item to your cart
Personalize An Embroidered Wedding Poem With A Name & Date: If you are embroidering a handkerchief for a wedding, The Handkerchief Shop has put together many popular wedding poems and messages, many exclusive to the shop, that can be personalized with a name and date that makes a wonderful keepsake to treasure from the big day. See the collection of wedding handkerchiefs in the "Wedding Handkerchief" category.
Personalize With An Embroidered Monogram: If you would like to embroider a monogram on men's handkerchiefs, you can see our monogram options in our "Monogram Handkerchief" category.
Personalize With Your Own Custom Design: The Handkerchief Shop specializes in embroidering your custom designs, crests and even handwriting (!) on handkerchiefs. If you would like a quote, please visit "Custom Handkerchief" and email me with your design and order details.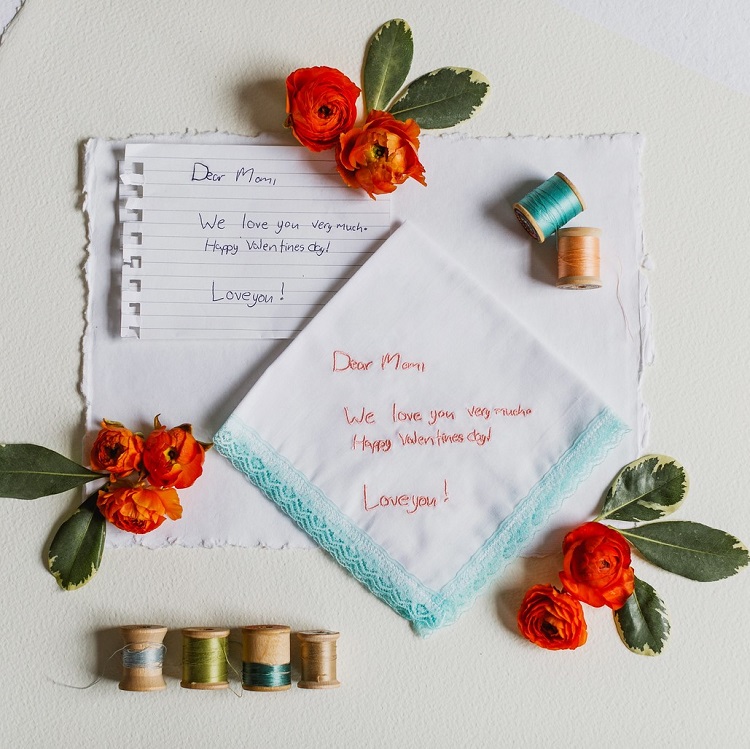 Have fun creating your own personalized handkerchiefs!!