Posted by Colleen on 22nd Jan 2015
Make it easier to personalize, monogram or custom embroider your handkerchiefs AND introduce some great new embroidery options....Check! We've been working on some great new things over here at The Handkerchief Shop and I am so excited to share with you our new fast and easy way of customizing your hankies.

Creating a customized handkerchief is super easy!
1. Select ANY Happy Hanky or Hank handkerchief
2. Select the embroidery option that you would like
3. Choose the thread color and font that you would like (if applicable)
4. Enter your initials or personal message
4. Check the "approval" box after you have looked at the fonts, placement and sizing
DONE! Now just wait for your monogrammed or personalized handkerchief to arrive nicely wrapped in the mail.
We have also added some unique new embroidery options that are perfect for personalizing your wedding handkerchiefs or Hanks for men. Some new monogram options will even make for super cute "his and her" handkerchiefs.
Check out some of the options below and have fun making your custom handkerchief!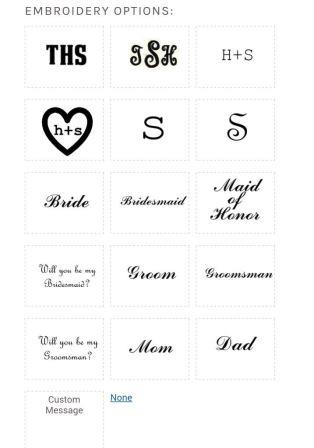 (Special thanks to Fred from oBundle for his help with the technical updates!)