Posted by Colleen on 18th Nov 2015
One of the fun things my little ones and I do during the holiday season is make a fun (easy!) craft together to give to family for Christmas. I love that it teaches them to think about others and giving. So when we were looking for this year's holiday craft, I stumbled upon these adorable handkerchief ornaments using vintage handkerchiefs on diyinspired.com. They are great to do with kids and no glue is required. The handkerchief ornaments will look beautiful on a decorative white tree or as a way to pretty up your holiday packaging.
Materials:
Vintage Handkerchiefs
Glass Ball Ornaments (found at local craft store)
Pretty Ribbon
Tweezers (helps you push the handkerchief into the ornament)
Directions:
Push the vintage handkerchief into the glass ornament.
Use tweezers if needed.
Tie ribbon to the ornament.
FINISHED!
These are so pretty and easy you just have to try making them for yourself. See this craft from Dinah Wulf on her website diyinspired.com.
You can also check out this and other vintage handkerchief crafts on The Handkerchief Shop's Pinterest board titled Handkerchief Craft Ideas.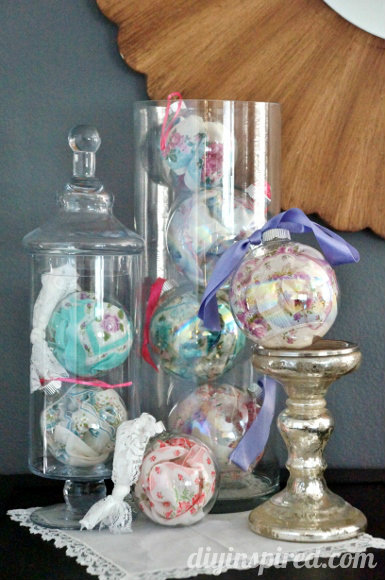 {picture from Dinah Wulf on diyinspired.com}