Posted by Colleen on 18th May 2015
It's true that time flies when you are having fun. It has been a year since I opened The Handkerchief Shop as a new space for Happy Hanky and the Hank handkerchiefs.
As I reflect on the first year in our new web space, I am so happy to be doing something I absolutely love and to be able to share it with the world.
I feel proud that I am able to continue to make Happy Hanky and the Hank in the U.S.A.
I feel lucky to collaborate with other great local businesses to bring you unique monogram, personalized embroidery options and vintage handkerchiefs.
I feel blessed that I have the love and support of my husband, family and friends.
I feel honored to have such truly great customers. I have talked to so many of you about the reasons you are buying your Happy Hankies and Hanks....weddings, graduations, becoming a grandparent, celebrating an anniversary and so many more reasons. These are the exact reasons why I wanted to create Happy Hanky and The Hank!
Thank you for a great year! To celebrate, please accept a free monogram when you purchase a Happy Hanky or Hank handkerchief on May 19th. Just use code CELEBRATE15 when checking out. See below for more details.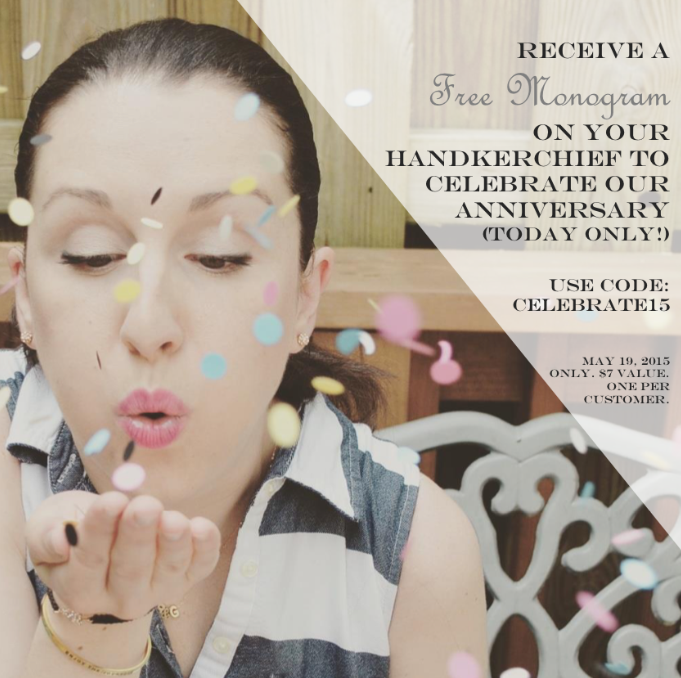 {Free Monogram when you purchase a Happy Hanky or Hank on May 19, 2015 and use coupon code CELEBRATE15. $7 Value. Offer not valid on sale handkerchiefs.}