Posted by Colleen on 13th Oct 2015
Next up on our Weekly Handkerchief Craft Series, are adorable pin cushions made our of vintage hankies. They make a perfect gift for someone who is an expert sewer or one who just signed up for his/her first sewing class. I found the handkerchief pin cushion project on BeachVintage.com and the best part is...you don't even need to sew anything! Check out these four easy steps:
1. Use a small vintage or ornate frame (you can find one at a local antique store, Ebay or even the dollar store sometimes has small ornate frames!)
2. Take the frame apart and spray paint the frame white.
3. Use cotton stuffing, which you can find at any craft or sewing store, and a vintage handkerchief and put the frame back together to create a 'cushion' in the middle for the pins.
4. Trim off any excess around the back of the frame.
Done!
If you would like to see more handkerchief craft ideas, visit The Handkerchief Shop's Pinterest board, Handkerchief Craft Ideas.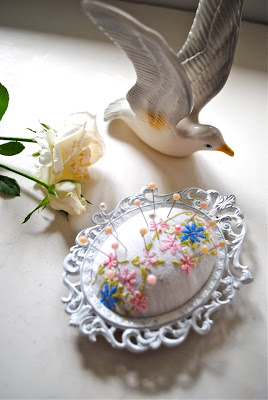 {Picture from BeachVintage.com}